Custom made paper tubes are easy to get, it allows you to explore the endless customization, and it's cheap! Now let us explore the endless paper tube customization.
1, Custom Tubes Quick Start: Types Chosen
First of all, we shall choose the right paper tube types for our product, there's no best suggestion, only choose the one you like most.
Currently custom made paper tubes get 3 types to be chosen from:
1 piece tube type: ends by sealers
2 pieces tubes type: come with a top lid & a base
3 pieces tubes type: come with a top lid, a base & inner neck
For more details pls refer to the picture attached below.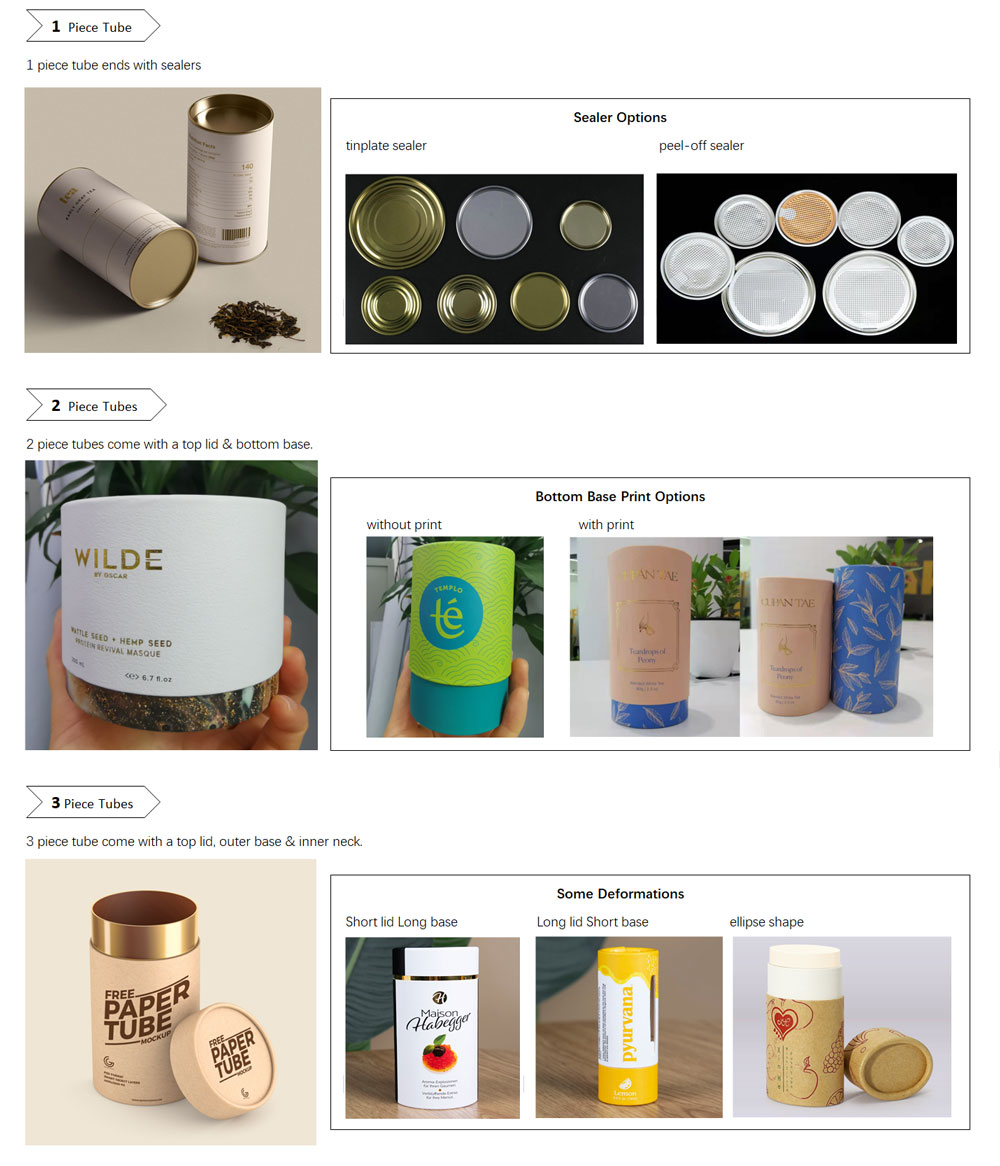 2, Custom Quick Start: Material Chosen
Custom made paper tubes are made of white/brown/black kraft paper, we suggest white kraft paper for food products, since it's food safe, and it's widely used, and so does brown kraft paper.

3, Custom Quick Start: Substrate
The substrate of a custom paper tube is a special requirement from customers, depending on what to pack inside the tubes. Normally we have the 3-following applications:
Uncoated / Nude : for tubes to pack the most normal products.
Coated / Laminated : for tubes to pack food, powder, etc. Dampproof purpose.
Specialty + Textured : for tubes to look glorious.
4, Custom Quick Start: Printing + Finishing
A custom paper tube with printing will look amazing, and it forwards right your brand's meaning to consumers. We suggest applying to print for custom tubes, which we can do CMYK print or Pantone color print, the difference between you can refer to this blog here.
Also, we can do some finishes on the printing, and we offer different options.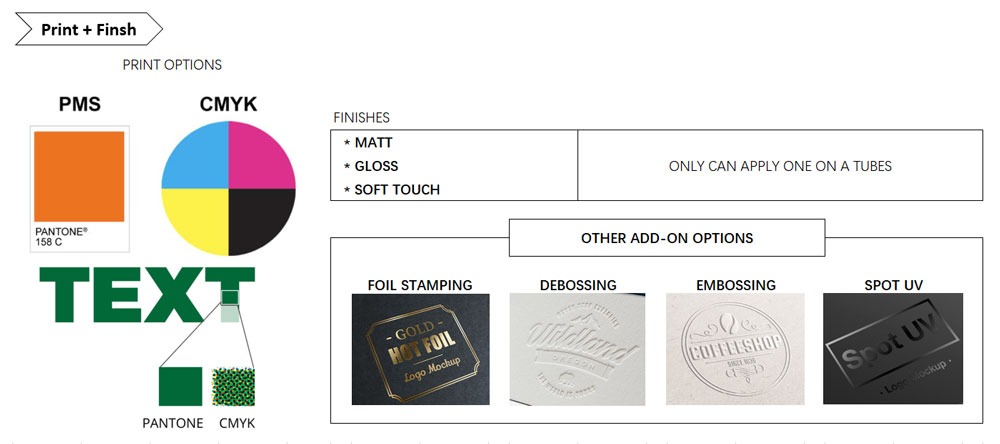 Till here, we have finished the chosen tube type, material, printing & finish, this has made your tube packaging amazing. But you'd wonder what else more can we custom on a tube? Is it safe to protect my product inside? Can I make it to see my product from the outside? The answers are certainly yes, the last step we offer more customizations for tube packaging.
5, Custom Quick Start: Add-ons Customization

These Add-ons will allow your paper tube packaging standout out, though it'll make cost increased. Now contact a specialist to custom your paper tube packaging!